There are few people for whom the word "icon" can be effortlessly applied, and Sidney Poitier, who died at age 94 last Friday, was one of them. In the 1961 film Paris Blues, Poitier delivered a riveting and elegant performance, as he was known to do throughout his lifetime in seminal films like To Sir, with Love, Guess Who's Coming to Dinner, In the Heat of the Night, and many more. The film featured an all-star cast including Poitier, real-life couple Paul Newman and Joanne Woodward, Diahann Carroll, and Louis Armstrong. Poiter was a titan of an actor, and in 1964, he won an Academy Award for Best Actor for his work in the 1963 film Lilies of the Field. In Paris Blues, Bahamian-American Poitier starred as Eddie Cook. The gorgeous black and white film was shot on location in Paris (a sometimes-rarity for the Hollywood of that era, when sound stages and studio backlots were frequently used). The film opens in a Parisian jazz club with views of the Paris cityscape, and we're whisked away into a smokey, jazzy 1960s Paris. Poitier as Cook plays a jazz saxophonist. Paul Newman's character, Ram Bowen, plays trombone. Together, with their female counterparts – two American tourists they meet at a train station who "come to Paris this time of year because it's cheaper, ya know?" – they explore the wonder of Paris. It's that magic the city continues to offer anyone who steps foot within the Boulevard Périphérique. Bowen and Cook court the American visitors, and, you guessed it, sparks of romance begin to fly. (This is an American movie, after all, where happy endings abound – unlike
French films
.) There are some great lines in the film, too, which Francophiles will love: "Of course, this is Paris! Anything is alright here." Cook says while looking over the
Seine
, "Paris is a city to walk in. And you need more than two weeks to see it. Can't you stretch your time a little?"
Champs Élysées. © Gautier Salles, Unsplash The film admirably confronts issues of racism in the U.S. contrasted with France's broader racial acceptance. "I'll never forget the first time I walked down the Avenue des Champs-Élysées," says Poitier's Cook to Diahann Carroll's Connie, "and just like that, I knew I was here to stay." This sense of acceptance led many Black American artists, including
Josephine Baker
and James Baldwin, to flee the U.S. and move to Paris, where they were celebrated, honored, and accepted. In the film, the Black characters, like Poitier's, Carroll's, and Louis Armstrong's, are centered in a way that was rare for films released in 1961. "Who needs it?" Cook says of the U.S., and talks about how, in Paris, he can sit down for lunch anywhere "without getting clubbed for it." Cook later explains further, saying, "Here, nobody says 'Eddie Cook, Negro musician.' In France they say, 'Eddie Cook, musician.' Period. And that's all I want to be. I don't have to prove anything here."
There are few people for whom the word "icon" can be effortlessly applied, and Sidney Poitier, who died at age 94 last Friday, was one of them.
In the 1961 film Paris Blues, Poitier delivered a riveting and elegant performance, as he was known to do throughout his lifetime in seminal films like To Sir, with Love, Guess Who's Coming to Dinner, In the Heat of the Night, and many more. The film featured an all-star cast including Poitier, real-life couple Paul Newman and Joanne Woodward, Diahann Carroll, and Louis Armstrong. Poiter was a titan of an actor, and in 1964, he won an Academy Award for Best Actor for his work in the 1963 film Lilies of the Field.
In Paris Blues, Bahamian-American Poitier starred as Eddie Cook. The gorgeous black and white film was shot on location in Paris (a sometimes-rarity for the Hollywood of that era, when sound stages and studio backlots were frequently used). The film opens in a Parisian jazz club with views of the Paris cityscape, and we're whisked away into a smokey, jazzy 1960s Paris.
Poitier as Cook plays a jazz saxophonist. Paul Newman's character, Ram Bowen, plays trombone. Together, with their female counterparts – two American tourists they meet at a train station who "come to Paris this time of year because it's cheaper, ya know?" – they explore the wonder of Paris. It's that magic the city continues to offer anyone who steps foot within the Boulevard Périphérique. Bowen and Cook court the American visitors, and, you guessed it, sparks of romance begin to fly. (This is an American movie, after all, where happy endings abound – unlike French films.) There are some great lines in the film, too, which Francophiles will love: "Of course, this is Paris! Anything is alright here." Cook says while looking over the Seine, "Paris is a city to walk in. And you need more than two weeks to see it. Can't you stretch your time a little?"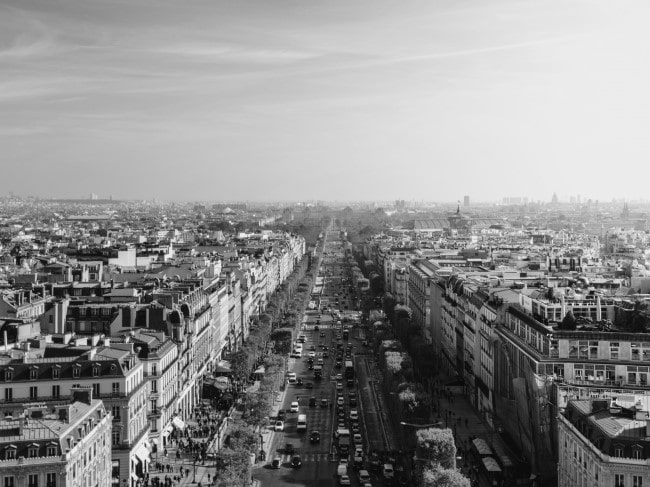 The film admirably confronts issues of racism in the U.S. contrasted with France's broader racial acceptance. "I'll never forget the first time I walked down the Avenue des Champs-Élysées," says Poitier's Cook to Diahann Carroll's Connie, "and just like that, I knew I was here to stay." This sense of acceptance led many Black American artists, including Josephine Baker and James Baldwin, to flee the U.S. and move to Paris, where they were celebrated, honored, and accepted.
In the film, the Black characters, like Poitier's, Carroll's, and Louis Armstrong's, are centered in a way that was rare for films released in 1961. "Who needs it?" Cook says of the U.S., and talks about how, in Paris, he can sit down for lunch anywhere "without getting clubbed for it." Cook later explains further, saying, "Here, nobody says 'Eddie Cook, Negro musician.' In France they say, 'Eddie Cook, musician.' Period. And that's all I want to be. I don't have to prove anything here."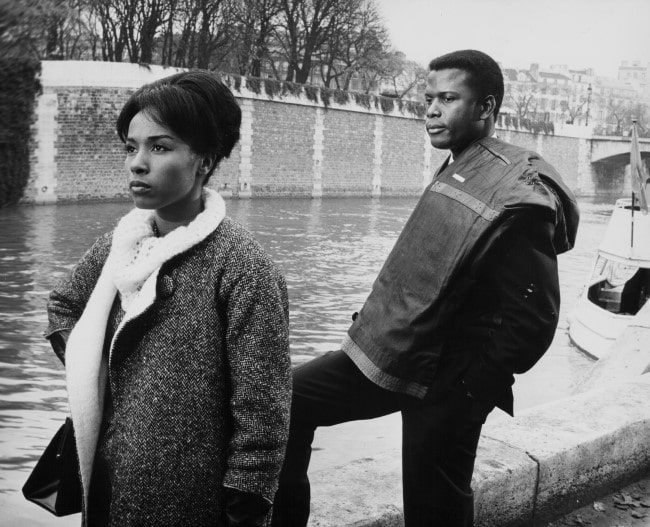 Based on the eponymous 1957 novel by Harold Flender, the film changes a critical element of the story: Interracial romances, which were central to the book, and existed in the first draft of the screenplay. United Artists, however, believed American audiences weren't ready to see interracial romance on the silver screen (a regressive, oppressive, and embarrassing decision for all involved). And the two romances featured in the film show a white couple and a Black couple. Poitier later said of the decision, "Cold feet maneuvered to have it twisted around – lining up the colored guy with the colored girl." He stated that United Artists had "chickened out" and "took the spark out of it," with which many agree.
Set in Paris and filmed on location, as you can imagine, the film hits the postcard-worthy highlights: Montmartre with Sacré-Cœur majestically looming in the background, Les Halles for a late-night meal, Notre-Dame and la Seine, and Place de Clichy. Paris Blues encapsulates the beauty of Paris, and the je ne sais quoi of Sidney Poitier – a legend who made his indelible mark on Paris, and all over the world. Rest in power, Sidney.