"Easter is a symbol of hope, renewal, and new life." – Janine di Giovanni
The city's chocolatiers and pastry chefs are showing off beautiful Easter creations in their boutique windows this season. Looking to take some home or offer as a gift? Here are some of our favorite treats.
Quentin Lechat, head pâtissier, pays homage to Easter Island with his limited edition (50) sculptural creation based on the iconic Moäi statues built to honor island chieftains. "I dream of going there one day," he sighs. Dark and milk chocolate combine with creamy pistachio, praline, a dab of fleur de sel, and also sprinkles of caramelized pistachio for crunch.
Moaï de Pâques: Order from 1st April and Click-n-Collect from15-18th April (Price €70).
Reserve at La Cuisine Restaurant Sunday 17th and Monday 18th April for the Easter Brunch featuring an Easter egg hunt and super fun arty projects for children. Tarif €159 – €190 with champagne – €80 for the 3-12 year olds.
And, reserve at Le Bar Long where it's Easter Tea Time from 16-18th April. Tarif €65 or €85 with a flute of champagne.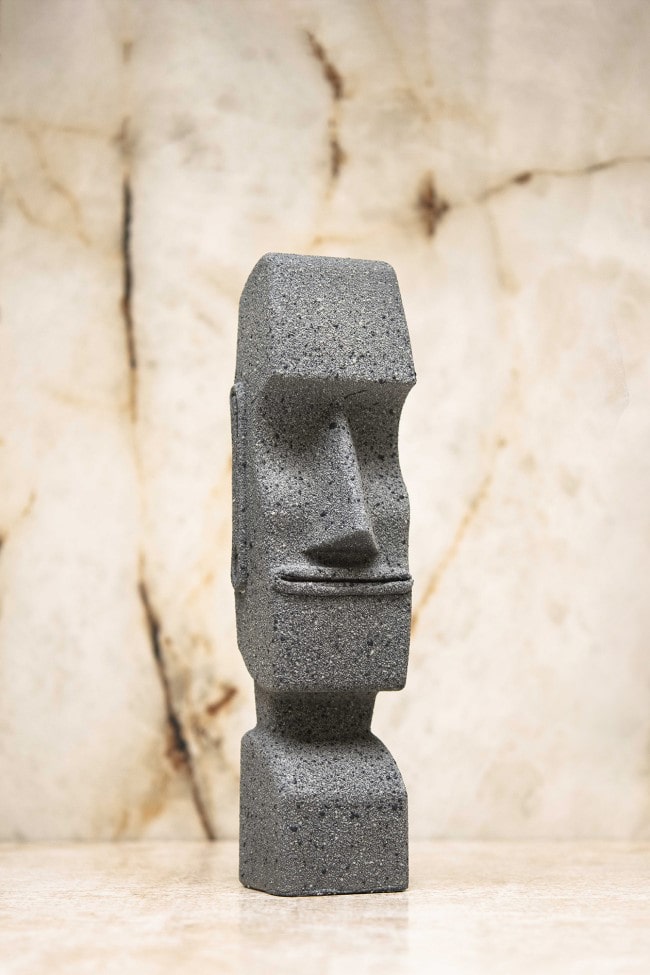 Here's a supersonic joyride to warm Jeff Bezos' heart. It flags the upcoming opening of Hôtel Fouquet's, NYC. The brilliant concept of pastry chef Anthony Coquereau and his brigade – a magic egg transporting you across the Atlantic, no passport or visas required! Composed of chocolate, the airship flies Fouquet's colors on a crunchy base of white chocolate and a cloud of vanilla marshmallow. Add pink pralines for the "French touch" and chocolate chips recall chunky American cookies – to celebrate the union of two cultures. The tail fins of this delicious dirigible are praline and pecan nuts. (Price €69.) And, you're wondering where to find Fouquet's, NYC? Tribeca at 456 Greenwich Street, NY 10013. Opening soon. See you there!
In the meantime, back in Paris, order from 13-20th April on 01 40 69 60 50 or email: [email protected]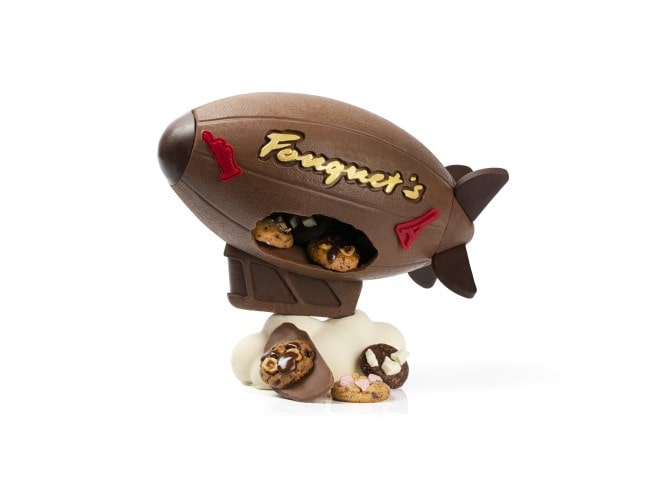 At their recently launched, left bank, chic chocotheque, Yannick Alléno & Aurélian Rivoire present the "Les Œufs à Plat" collection, milk and dark chocolate eggs, available in four sizes (chicken, turtle, dragon and dinosaur eggs). For the choco-duo whether it's an intense dark chocolate ganache, enhanced with pecan nut praline and cocoa nibs, milk chocolate ganache coating a praline with shortbread hazelnut shards, or crispy puffed rice and roasted milk chocolate peanuts, they're confident that these are the flavors to captivate adults and children alike. And, the cute chicken and turtle eggs happily slip into all possible, and imaginable, hiding places! The hunt is on, either, at the e-boutique or at the brick and mortar store.
9, rue du Champ-de-Mars, 7th.
Open Monday-Saturday 10 am-7:30 pm. Sunday 9 am-1:30 pm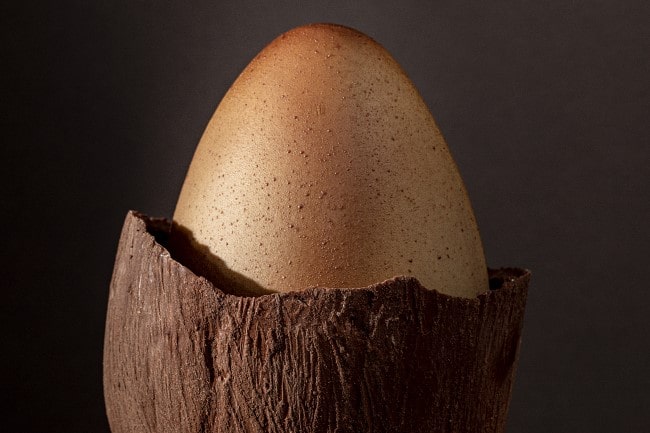 MO's pastry chef Adrien Bozzolo (Sur Mesur, ** Michelin), together with beautiful Sardinian born actress/jewelry designer Caterina Murino, share their passions for Easter 2022 at the Parisian palace. I'm a fan! All profits will be donated to AMREF Health Africa, the first public health NGO in Africa, of which Caterina is the godmother.
For this exciting collaboration, Caterina designed an egg-shaped pendant handcrafted in silver filigree. It took five Sardinian craftsmen to create the exquisite Easter jewels, each piece is unique. Among them, an exceptional example of the pendant was made in pink gold, set with sapphires.
Chef Bozzolo created an ovoid-shaped box in pure Madagascar chocolate. A chocolate egg is delicately placed on a crispy hazelnut and fleur de sel praline cushion and, within the egg's interior, the pendant! (price €720)
Order from 10-18 April. Price €120.
251 rue Saint Honore, 1st
Tel: 01 70 98 74 00 or email: [email protected]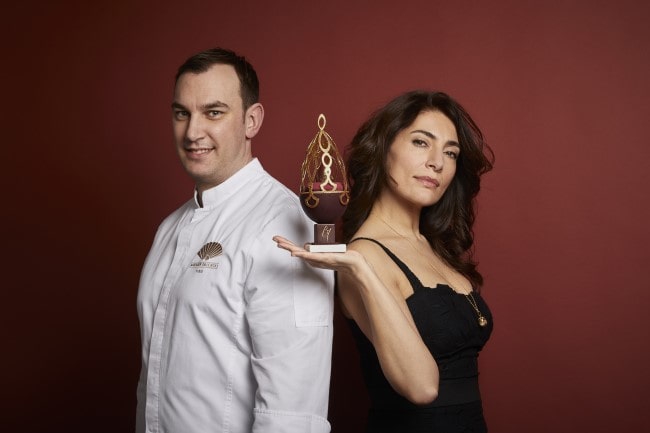 "Bunny's ears point towards a sunny garden," smiles Lignac. In dark, milk or dulcey chocolate (€30). Tuck into the whole collection of marshmallows, mini bears, praline eggs etc at the star chef's dedicated chocolate shop, La Chocolaterie Cyril Lignac, at 25 rue Chanzy in the 11th.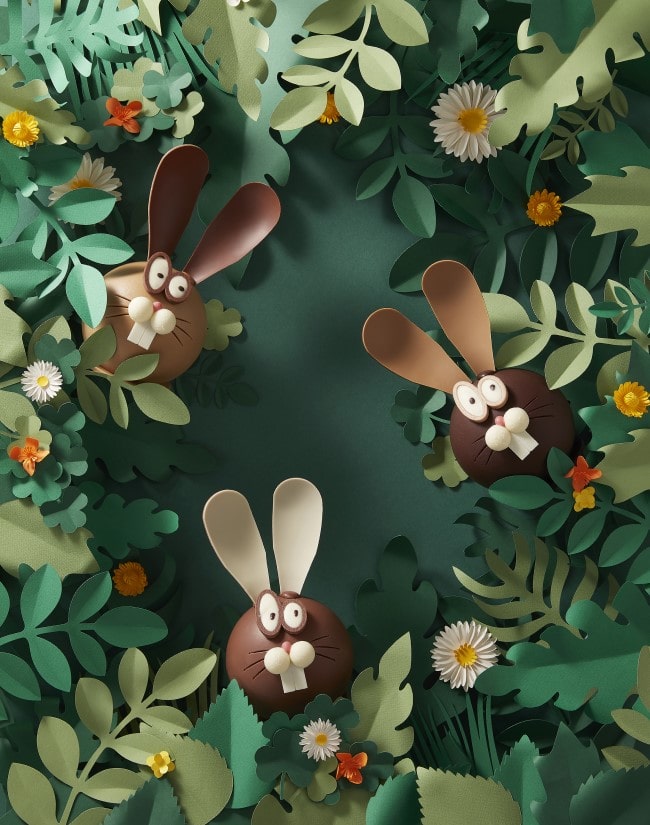 Pastry Chef Tristan Rousselo has created L'Œuf Sablier (hourglass), reflecting the Art Ddeco theme of the hotel which opened in 1929. It's made with 62% pure Brazilian Macaé chocolate with caramelized pumpkin seeds and 48% pure Honduran milk (€70). At the Cognac Bar 19.20 (baptized La Cognathèque) taste the irresistible Easter collection showcasing 25 houses and small French winegrowers. You can also quaff 3 cognacs of your choice à la carte (€30).
Order by calling 01 53 23 78 50
Click-n-Collect from 33 avenue George V in the 8th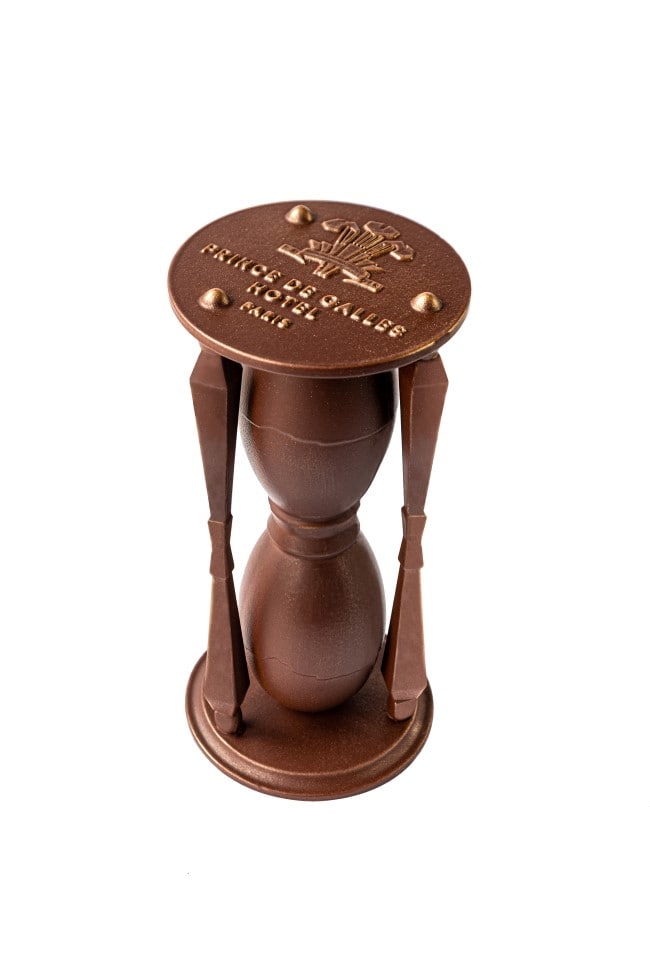 Up, up and away with Christophe Bertrand, the eco-conscious chocolate maker. Vroom, Vroom (€80). Ballons Green (€35). Hissez haut (aim high) €35. Take to the air, the sea or come down to earth. "Le chocolat chic and ethique" direct from the Cameroon co-operative set up by Christophe B.
Les Cocottes de Pâques, A La Reine Astrid, available at the new Left Bank boutique, 44 rue de Verneuil, 7th
Tel: 01 49 27 92 43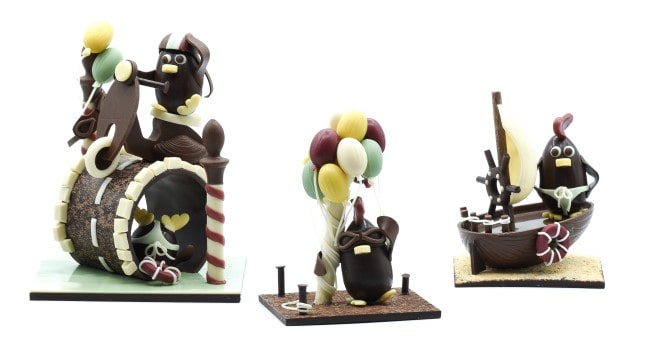 For a Proustian moment or two, taste the Easter Chocolate Madeleines by François Perrret. In three flavors – dark, milk or white chocolate – the fluted double shell of these generously rounded eggs contain the surprise of a myriad of miniature house-made chocolates. The three flavors are: dark chocolate 72% Exclusive to The Ritz, Paris; Tannéa milk 43%; or white Diapason 33%. (€62).
Ritz Paris, Le Comptoir, 38 rue Cambon, 1st.
The Easter collection takes inspiration from the house's history; the anniversary egg marks the 160th anniversary. Dark, milk or white chocolate? There's something delicious for all tastes and all ages. Dark chocolate, 62% cocoa, with a strong taste and fine notes of spices and tannins. Milk chocolate, 35% cocoa, offers a caramel/cocoa vibe. 100% natural rose-tinted white chocolate brings a touch of color. Book Easter lunch Chez Ladurée from 15th-18th April in all the restaurants (€49). Which is your favorite address? Champs Elysées/rue Cler, 7th/rue Royale, 8th/rue Bonaparte 6th etc.
Prices: Egg 160th Anniversary €90 – Chocolate Egg filled with chocolates €20-€45
Chocolate hens €8-€22. Les Fritures chocolate €12. Macarons de Pâques from €3.20-€5.50 each and the coffret of 24 macarons (15,000 sold daily worldwide!) €65.
From April 8 to 18, the only palace hotel on the Left Bank fêtes Easter with delicious chocolate experiences by talented Pastry Chef Nicolas Guercio. His statuesque egg (limited edition of 100) is a tribute to travel and resembles the ocean-liner facade of the Lutetia, "the Parisian reference since 1910." Composed of a double shell of Manjari Madagascar 64% dark chocolate filled with almond-hazelnut-vanilla-dulcey praline, dotted with whole hazelnuts. A percentage of the egg sales will be donated to the French Red Cross. Œuf de Pâques signature, price €90. Collect from 43 Boulevard Raspail, where the pop-up boutique's dedicated to the art of chocolate makers and where sublime Easter eggs sit alongside travel-themed creations (chocolate boat bars, mini ocean liners) and a mouthwatering collection of chocolate bars to taste – or gift.
Open from April 8th -18th – 11am to 7pm.
Order on Tel: 01-49-54-46-00 or [email protected]
And, plan a sweet / savory Easter T-Time the weekends of 9th and 18th April. Salon Saint-Germain €58-€75.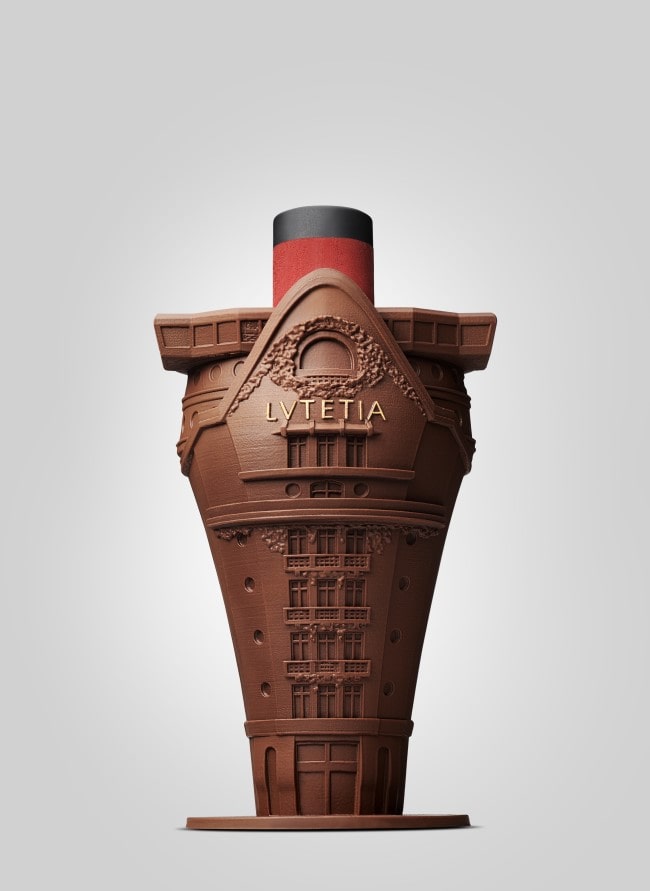 Chocolate wizard Nicolas Cloiseau (MOF 2007) interprets "Easter Feather," with a touch of pure fantasy. The golden Fabergé inspired egg is handmade in a limited edition of 10. Covered with 112 golden leaves, it's made with 56% dark chocolate and weighs in at 6kg! Inside, a second egg, wrapped in 23-carat gold, garnished with 750g of Easter sweet treats (dark and milk fantasies, almond praline milk eggs and black Gianduja eggs). Wish list! Price: €2,500. Note: La Maison du Chocolat has a range of cheaper eggs.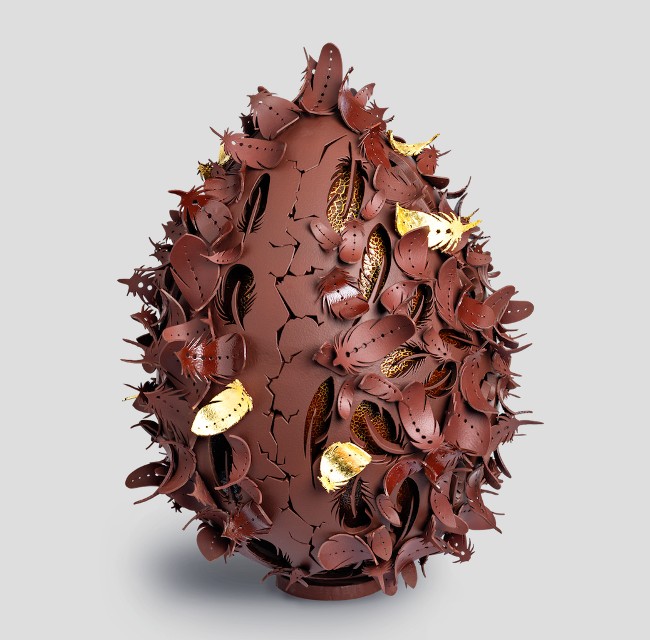 Lead photo credit : Le Moaï de Pâques at Le Royal Monceau. Photo credit: Le Royal Monceau/ Instagram